Ch.Xotic Lover of Slatestone (Nash)xxxxxxxxxxxxxxxxxxxxxxxxxxxxxxxxxxxxxxxxxxxxxxxxxxxxxxx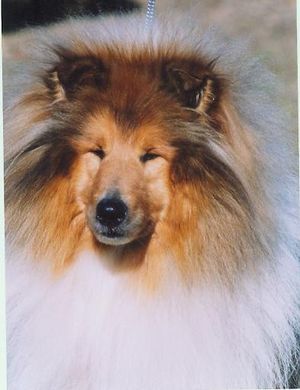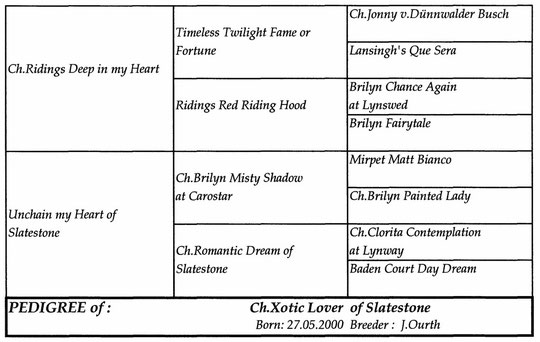 "Nash" is not only a wonderful companion and a faithful friend , but he must be one of the most successful stud-dogs for the last decade...
"Nash" has now about 23 CHAMPIONS ! to his credit all over Europe...and this, without ever leaving his home-kennel...!...amongst his Ch.-children are "Crufts-Winner" - "World-Winner" - "Europe-Winner" -"International-Ch." and "National-Ch."...
The following list speaks for itself...:
Ch.Samhaven Moët
Ch.Brown Sugar of Slatestone
Ch.Believe in Love of Slatestone
Ch.Foreign Affair of Slatestone
Ch.Twilight Time de Vaillencourt
Ch.Double Scotch Gold Young Lover
Ch.Moorfield Early Bird
Ch.Moorfield Eliza Doolittle
Ch.Angelina Jolie of Moon River
Ch.Magic Daydream v.Haus Rosenpracht
Ch.Magic Moment v.Haus Rosenpracht
Ch.Moment in Time v.Haus Rosenpracht
Ch.Sacrafice Cold as Ice
Ch.Samhaven Cocktail
Ch.Camaro Now or Never
Ch.Copper Shanty v.Old Tom
Ch.I haven't a Cent v.Old Tom
Ch.Billy Jean v.Traumland-Woblitzsee
Ch.Caledonian Xotic Xushu
Ch.Melville Misty Belle
Ch.Too Much of Lowlands Green Valley
Ch.Huligan from Ospern
Ch.Samhaven Gee N Tee...

...many thanks to everyone who put his faith into my lovely "Nash"...!